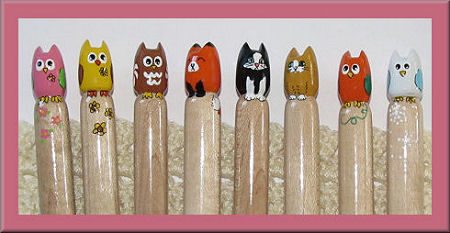 Pre-Made One-of-a-Kind Designer Crochet Hooks: Click Here!
~ FAVORITES AT OUR SHOP ~


NEW Knit Patterns!

More Info
NEW Knit Supplies in our KNIT BOUTIQUE!

More Info
NEW Plastic Canvas Patterns - Available to Download!

More Info
Full Lines of Plastic Canvas Shapes, Sheets, Yarn & Cord!

More Info
Amigurumi Kittens!

More Info
Timely Desktop Perpetual Calendars!

More Info
NEW Crochet Patterns & Downloads!

More Info
OVER 100 FREE PATTERNS TO TRY
~ WITH NO OBLIGATION ~
Try them out for yourself...
Have fun stitching our one-of-a-kind patterns.
Experience the quality and beauty of all our patterns.
~ Click Here for over 100 FREE ~
Cross-Stitch, Plastic Canvas, Bead and Crochet patterns of
Snowmen, Angels, Teddy Bears, Bible Quotes,
Puppies and Kittens, Alphabets and more!

FREE Breast Cancer Awareness Pink Heart Ribbon Pattern
for Plastic Canvas and Cross Stitch!
(PDF file will open in a new window for you to print out)
Receive the FREE Craft Designs for You monthly email newsletter
highlighting the newest patterns, sales and freebies
available only to subscribers.
Over 8500 subscribers worldwide...and growing!
Sign up today
Don't forget to Bookmark this Site and add it to your Favorites List!