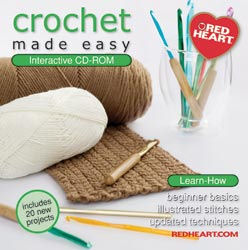 Everything you need to learn how to crochet with excellent video and close-up photos that you can slow down, pause and even replay over and over as you crochet along.

Includes a stitch guide booklet and 20 patterns: fun mug mats, pot holders, towel edgings, scarf and hat, baby sock edgings, place setting, bookmark, hair scrunchies, wave, ripple and granny square afghans, snowflake, family pullover sweater, child's cardigan, woman's lacey cardigan, doily and heart pillow.

This CD has everything you need - I love to use it and highly recommend it! Even for those who are used to crocheting, this cd is a great reference. Includes how to do all the basic stitches as well as reverse single crochet, post stitches, increasing and decreasing, working in rounds, changing colors, reading instructions, gauges, and a guide to yarns and threads.

No need to install another software program: this CD runs like a video - simply place it in your computer cd-player and it begins to play!