"I want to thank you for the prompt delivery of my order. I was so surprised to see the envelope in the mail today. The patterns are lovely, and I look forward to working them and sharing them as gifts. Keep up the good work!"
~ Leslie L. from Old Forge, PA

- Payment Options -
*Secure Online Shopping*
Credit/Debit Card
or Paypal
- Mail-in Your
Check or Money Order
- Order by Phone
---
* The Stamped Cross Stitch Kit Shop *
Featuring Exquisite Artistic Cross Stitch Kits in "No-Count"!
~ PRETTY KITTIES ~

Four Seasons Cats
Darling Cats in Four Season Scenes.
14" x 14"

Springtime View
Kitten looking out the window at flowers and robin.
11" x 14"

Meowsical Trio
Darling Kittens on Piano.
14" x 11"
~ WEDDING SAMPLERS ~

Two Hearts United
Beautiful Wedding Record featuring Heart Pillows and Roses.
11" x 14"

Two Hearts Wedding Sampler by Dimensions
"Two Hearts One Love" Wedding Sampler.
11" x 14"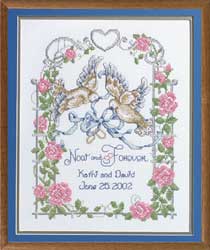 Wedding Doves
Lovely Romantic Wedding Sampler with Doves and Roses.
13" x 15"
~ FOR BABY ~

Bear Birth Sampler
Darling Baby Birth Record for Your Little One.
11" x 14"

Wake Up Sleepy
Darling Eeyore and Pooh-Bear.
7" x 5"

ABC World
ABC Sampler.
11" x 14"
~ INSPIRATIONAL ~

Rejoice
Lovely Floral Cross with "Rejoice in the Lord".
8" x 10"

Plant the Seeds
Lovely Garden Scene: "Plant the seeds of Friendship...Then watch the blessings Grow".
8" x 10"

Flowery Verse
Delightful Songbird and Floral Scene: "Having someplace to go is home...Having someone to love is family...Having both is a blessing".
14" x 10"
~ NAUTICAL & NATURE ~

A Season for Everything
Lovely Picture of All Four Seasons.
14" x 14"

Roses in Striped Vase
Artistic Roses in Vase.
14" x 12"

Mother Wolf and Pups
Lovely Realistic Scene.
16" x 12"

Horse Friends
Darling Horse Pals.
12" x 11"

Dinner Call
All the Songbirds at your feeder!
11" x 14"

Butterfly Trio
Gorgeous Colorful Butterflies.
8" x 14"

Chickadees on a Branch
Darling Chickadees in an Artistic Picture.
8" x 16"

Snooze
Darling Pup sleeping on a quilt.
14" x 10"
---
Copyright 1999-2013 Cherie Marie Leck

Craft Designs for You
175 West Monroe Street, Suite 125
Wytheville, VA 24382
U.S.A.

Privacy Policy

~ I dedicate this site and all my work to my LORD Jesus - Who is the only Saviour, and the giver and creator of all. The LORD has blessed me in so many wonderful ways - Praise Him! It is my hope to share this joy with each of you who visits this site ~ Cherie